Deutsch
T-Shirts
Siebdruckeria published a series of t-shirts named Outlaw Legends. One of them is dedicated to Schani Breitwieser.
On it you can find one of the sayings that are known of him. When a judge asked him why he had committed his crimes he answered: »Aus Not (Out of need).«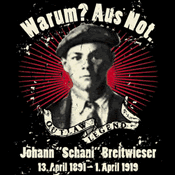 T-shirts are available in shops and from Siebdruckeria.
We kindly got permission to offer the texts used by Siebdruckeria for their T-shirt project for download as PDF (German only).