Deutsch
Events
Past and future events that deal with Schani Breitwieser.
Present and Future
At the moment there are no events planned.
Past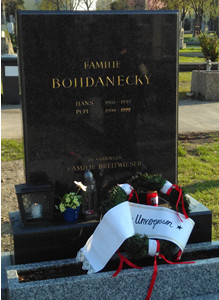 1 April 2019 - Candle for Schani
Half a dozen friends came to the Meidlinger Friedhof cemetery for the 100th anniversary of Schani's death and put down a wreath, flowers and a few candles. This was rounded off by topical discussions over a beer nearby.
31 March 2016 - 3 October 2016 - Johnny Breitwieser
The Schauspielhaus theatre in Graz showed the play Johnny Breitwieser - Eine Verbrecher-Ballade by Thomas Arzt in 2016. The music this time was by Maike Rosa Vogel.
28 November 2014 - 27 April 2015 - Johnny Breitwieser
Schauspielhaus Theatre in Vienna is staged Johnny Breitwieser - Eine Verbrecher-Ballade aus Wien. First night was on 28 November 2014.
3 Juni 2010 - Reading by Jakob Lediger
Outlaw Legend
Johann Schani Breitwieser - Einbrechergenius aus Wien
13.4.1891-1.4.1919
In its event series Buch im Beisl (Book in the pub) Club International had Jakob Lediger read from his Schani series published in Augustin.
17 October 2009 - tot oder lebendig
As part of its T-Shirt-collection project Outlaw Legends Siebdruckeria and Mimamusch offer a theatrical evening entitled tot oder lebendig (dead or alive). One of the four legends depicted is, of course, Schani. There is an info folder.